Beautify Your Lawn on a Budget
By Matt Diehl, May 24, 2017
Do you like this article? Let us know!
699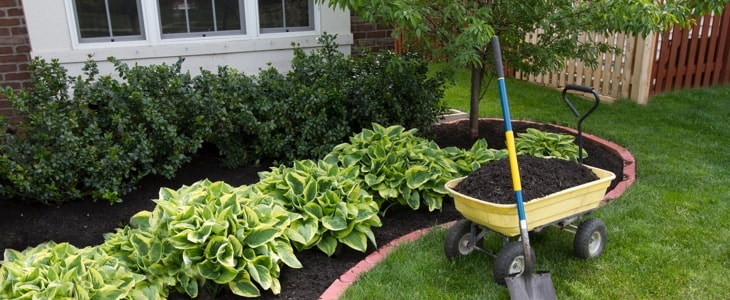 Creating a beautiful lawn can take research, planning and hard work. However, with the right approach, it doesn't have to require a lot of funds.
Whether you want to increase curb appeal or spruce up your backyard, here are some tips to beautify your lawn on a budget:
Buy perennials
In addition to their beauty, perennials are popular for good reason - they return each year. In fact, some perennials could return for 20 years or more with proper care.1 Although their cost could be higher than non-perennials, this one-time investment could pay for itself many times over.2
For ideas on what to plant in your yard or garden, here some perennial varieties to choose from:
Divide your plants
Dividing plants, including perennials, can offer a variety of benefits.3 First, it can help keep them healthy by providing more space to grow.4 Second, it can protect them from insect and disease infestations.5 And third, you can make several plants out of one!6
Although you can divide most healthy plants at any time, the best seasons are spring and fall.7 This allows the plants to recover faster in the cool, moist conditions.8
Here are some steps to dividing a plant:
Step 1 - Dig new holes for the divisions
Step 2 - Dig up and remove the clump
Step 3 - Separate the individual crowns of the plant into divisions
Step 4 - Replant the divisions quickly
Step 5 - Give each division extra attention during the first year
Make and lay your own stepping stones
Stepping stones can provide function and fashion to almost any yard. However, some store-bought stepping stones can cost $5-$20 a piece. If your path requires a lot of stones, the total cost can add up quickly.
Rather than buying them premade, you could save money by making the stones yourself. All you need is some quick-setting cement, a bucket, a hand shovel and a ruler.9 Once you have all your supplies, you can start making your own stepping stones.
After the concrete has settled, the last step is laying them in place. You could hire a local landscaper to complete the job, but you can avoid paying labor costs by doing it yourself. If you're confident in your DIY abilities, here are some tips on how to lay stepping stones.
Search for free mulch
Whether you live in a small town or a big city, chances are you have access to free mulch. Most municipalities collect branches and trees that come down during winter storms. Some communities also collect Christmas trees after the holidays have ended. Once spring arrives, workers use machinery to chop the wood into pieces and leave it in piles for residents to pick up for free.
Mulch can add both cosmetic and functional benefits to your lawn. In addition to adding a finishing touch to gardens and flowerbeds, mulch can also decrease weed count and increase nutrients in the soil.10 A layer of mulch can also help insulate plants during unusually hot or cold weather.11
To find free mulch in your area, contact your local town hall or yard waste center for pickup locations. Be aware that you may need to provide your own bags or a use a truck to haul the mulch home. To estimate how much mulch you need for your lawn, try this mulch calculator
.
The best low cost lawn on the block
Achieving an attractive lawn doesn't require a large budget. In fact, if you're willing to get your hands dirty, you may be surprised at how inexpensive the yard of your dreams can be. Good luck and have fun!
Gardening Channel. "Inexpensive Perennial Flowers for Your Garden." GardeningChannel.com. http://www.gardeningchannel.com/inexpensive-perennial-flowers-for-your-garden (accessed May 10, 2017).

Gardening Channel. "Inexpensive Perennial Flowers for Your Garden." GardeningChannel.com.

Better Homes & Gardens. "Dividing Perennials." BHG.com. http://www.bhg.com/gardening/flowers/perennials/dividing-perennials/ (accessed May 10, 2017).=

Better Homes & Gardens. "Dividing Perennials." BHG.com.

Ibid.

Ibid.

Ibid.

Ibid.

McCoy, Mary. "10 Simple DIY Landscaping Ideas for Your Home on the Cheap." MoneyCrashers.com http://www.moneycrashers.com/simple-diy-landscaping-ideas-home-cheap/ (accessed May 10, 2017).

RecyclebyCity. "Free Mulch. Why You Want It & Where to Get It." RecyclebyCity.com. https://www.recyclebycity.com/chicago/brief/free-mulch-why-you-want-it-where-to-get-it (accessed May 11, 2017).

RecyclebyCity. "Free Mulch. Why You Want It & Where to Get It." RecyclebyCity.com.
The views and opinions expressed in this article are those of the author and do not necessarily reflect the opinion or position of OneMain. The information in this article is provided for education and informational purposes only, without any express or implied warranty of any kind, including warranties of accuracy, completeness or fitness for any particular purpose. The information in this article is not intended to be and does not constitute financial, legal or any other advice. The information in this article is general in nature and is not specific to you the user or anyone else. The author was compensated by OneMain for this post.
Personal and auto loans from $1,500 to $25,000†
Get the money you need for:
Debt Consolidation
Auto Loans
Household Bills
Vacations
apply now!