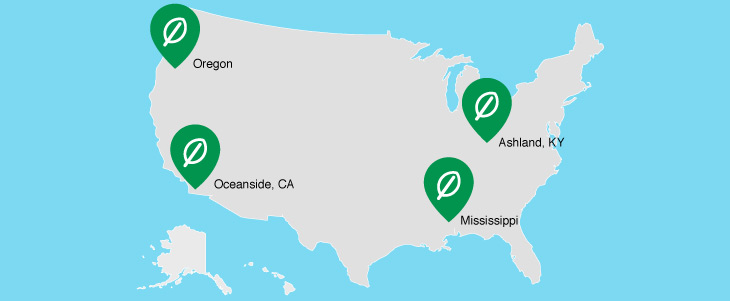 Each year, Customer Appreciation Days give us an opportunity to show how much we value our customers.
This year, we wanted to think of new ways to show our appreciation and support for customers. Across the country, branches completed hundreds of different projects to give back to their communities. From holding food drives to sending care packages to troops, Springleaf* branches - both employees and customers - got into the spirit of the holiday season.
Check out some highlights from this year's Customer Appreciation Days branch projects around the country.
Beach Cleanup - Escondido and Lemon Grove, CA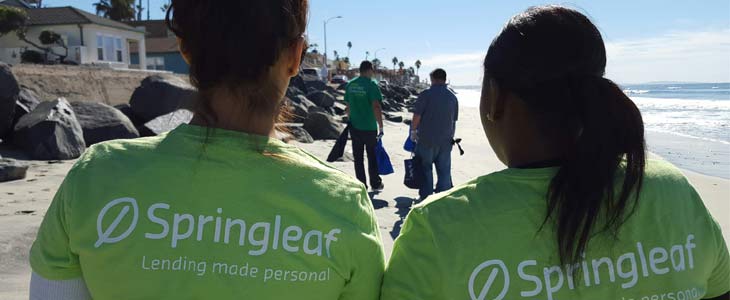 On November 7th, volunteers from the Escondido and Lemon Grove, California, branches hit the beach - but not to go swimming. Instead, they were participating in a beach cleanup event hosted by the Surfrider Foundation, an organization dedicated to "the protection and enjoyment of the world's ocean, waves and beaches."
With their fellow volunteers from California State University San Marcos, company volunteers spent the morning picking up litter and greeting beachgoers on Oceanside Pier in Oceanside, CA.
The Escondido branch team, led by branch manager Brenda Ureno, feels that cleaning the beach is a good way both to give back and to take care of the community. "As human beings, it's important to work together to make our community a better place to live in. We all gotta take care of each other," says Ureno.
The chance to work together as a branch team was also a major reason for participating. "It's a team effort. It's important for my team to know we're doing it together. That bond is important to me," Ureno says.
As they cleaned, Ureno and her team kept a tally of the types of litter they picked up. At the end, they found that cigarette butts were the most common by far.
Ureno enjoyed learning from the Surfrider Foundation about how litter commonly found on beaches, such as cigarette butts, can contaminate the ocean, its ecology, and even people's water supply. "You don't realize that it's affecting the ocean and ocean animals," Ureno says.
Ureno and her team also enjoyed chatting with beachgoers. Our presence on the beach even inspired some children on the beach to participate in the cleaning effort.
Ureno and her team enjoyed their time on the beach, cleaning up litter, enjoying the breeze, and talking to visitors. "It was a really rewarding experience," says Ureno. "I would definitely do it again."
To learn more about the Surfrider Foundation, please visit their website.*
Festival of Trees and Trains - Ashland, KY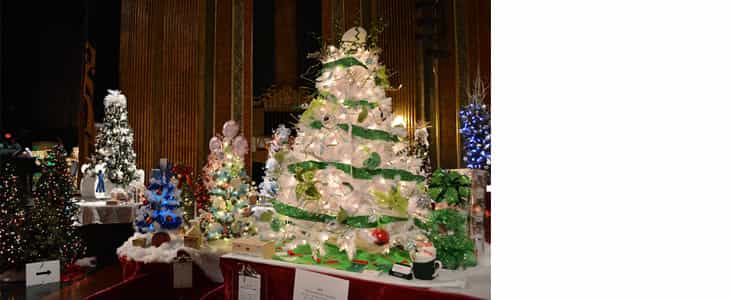 Ashland, KY branch employees helped bring "Warm Winter Wishes" to the 31st Annual Festival of Trees and Trains (Nov. 20-29). 103 trees were decorated and later sold/auctioned to benefit the Paramount Arts Center's education department to further their work with local youth.
Branch team members Lisa Roach and Autumn Willoughby decorated their tree with the theme of "Warm Winter Wishes," using men's, women's and children's gloves placed inside acrylic ornaments and around the tree as decoration. These gloves will be donated to charity.
In addition to being a festive way to give back, participating in this event also appealed to Roach on a personal level. The event has become a tradition for Roach and her family, who have been attending for 9 years now. Each Thanksgiving, she and her family go to the Paramount after dinner to see the trees and join in the holiday festivities, then follow it up with a visit to the town's Central Park to see the lights.
This festival also draws a lot of tourists to see the display of trees and trains. It is a great fundraiser and it allows people to get together as a community.
Roach enjoyed decorating the tree and interacting with members of the Paramount Women's Association. She and Willoughby spent several hours decorating the company tree and chatting with other people decorating their trees, getting ideas for how to adorn their own.
"It was a really fun time," Roach says.
At the end of the festival, the Ashland branch bought back their tree, with proceeds going to the Paramount's education department. They're already looking forward to dress it up again next year.
To learn more about the Festival of Trees and Trains, please visit the event site*
Coats & Shoes for Kids - MS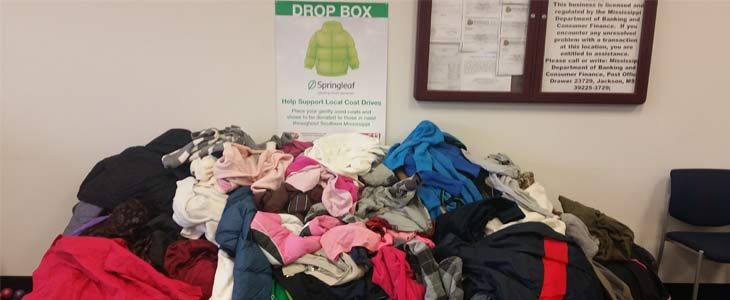 For the holiday season, branches in Southern Mississippi teamed up with their communities to collect new and gently used coats and shoes for those in need.
The Diberville, Pascagoula, Picayune, and both Gulfport branches partnered with the local TV station WLOX, Raising Cane's, C Spire, and Edgewater Cleaners for the coat drive. Team members collected donations at the branches and at 4 partner local schools. Once they have been cleaned, the coats & shoes will be distributed to Salvation Army, local churches, and a battered women's shelter.
After seeing a commercial for WLOX's coat drive, Rachel Starkey, from one of the Gulfport branches, thought it would be a great thing for the team to participate in.
"It's a way for everyone to participate. Everybody has something in their closet [that they could donate]," Starkey says.
It turned out she was right. Halfway through the coat drive, Starkey went to pick up the first round of donations from Saucier Elementary, the school that her branch had partnered with, and found that there were already 15-20 large bags filled with coats and shoes. And that's just from one of the schools.
The large number of donations is significant, especially considering that the area is not particularly wealthy. "The Mississippi Gulf Coast is a geographical area where we've had economic challenges," says Michael Lewis, district manager for southern Alabama and Mississippi.
Starkey points this out too. "A lot of times you watch the news and see cities and areas in need and you forget that there are people in need at your back door," she says. "Sometimes you forget that, even though Hurricane Katrina was 10 years ago, there are still people who are displaced from their homes."
Lewis thinks that the magnitude of generosity might be partially because of the economic challenges, rather than in spite of them. "Some of the less fortunate are some of the greatest givers - they're people who know what it feels like to be cold," he says.
Lewis's favorite part of the project has been seeing the kids get involved. He has also appreciated the support he and the branches in his district have received as they participated in this project.
Starkey's favorite part of the project has been seeing how much people donated. "Obviously it melts your heart," she says.
By the time the fundraiser wrapped up, 1,500 donations of coats and shoes had been collected. Starkey marvels at how big an event Coats & Shoes for Kids ended up being, especially because our involvement all started with "one simple idea during a branch meeting." She says she is pleased with the way it turned out.
Still, Starkey says she wishes she could have done even more. She hopes that the branches will be able to do this project again next year, but she also wants to find ways to give back more than once a year.
"UCC Strong" Fundraiser - OR
Throughout Customer Appreciation Days, Oregon branches have been showing their support for the people of Roseburg, Oregon, and Umpqua Community College, after the shooting that took place there in October.
At all Oregon branches, bracelets bearing the words "UCC Strong" are available for purchase. Each bracelet costs $2.00, and all proceeds from their sale will be donated to the Umpqua Community College Foundation Scholarship Fund.
In the wake of the tragedy at UCC, many people - both customers and employees - wanted to do something, according to Brad DeLong, district manager for the Oregon branches. Many customers and employees are from Roseburg or have connections to the city, but "even though people may not have been from Roseburg, they were affected [by the incident]," says DeLong.
"We just wanted to do something. We didn't want a lot of fanfare," DeLong says. Selling bracelets and donating the proceeds to the UCC Foundation to go toward their scholarship fund seemed like a good way to offer support.
The scholarship fund gives people who may not have the means to pay for their education the opportunity to go to college. As the area's timber industry has declined, many people who formerly had jobs in that field have had to find jobs in other fields, which require them to re-train. By donating to UCC's scholarship fund, DeLong and other employees hope to help provide people in the community to receive the re-training they need in order to find jobs.
DeLong describes Roseburg as not wanting to let this act of violence affect their way of life. Selling the bracelets helps provide meaningful community support and helps commemorate the lives of the victims, not the gunman or the violence.
"A lot of customers have liked it and said that they're glad we're doing this," DeLong says of the fundraiser. So far, the branches have raised $900 from the bracelets, but DeLong hopes to reach their goal of $3,000 before the fundraiser ends at the end of December.
To purchase a "UCC Strong" bracelet, please visit a branch in Oregon.
If you would like to donate to the UCC Foundation, please visit the UCC website.*
* Please note that Springleaf has changed its name to OneMain.
The views and opinions expressed in this article are those of the author and do not necessarily reflect the opinion or position of OneMain. The information in this article is provided for education and informational purposes only, without any express or implied warranty of any kind, including warranties of accuracy, completeness or fitness for any particular purpose. The information in this article is not intended to be and does not constitute financial, legal or any other advice. The information in this article is general in nature and is not specific to you the user or anyone else. The author was compensated by OneMain for this post.