Four Ways to Have More Family Time in 2015
By Lisa Weinberger, February 25, 2015
Do you like this article? Let us know!
5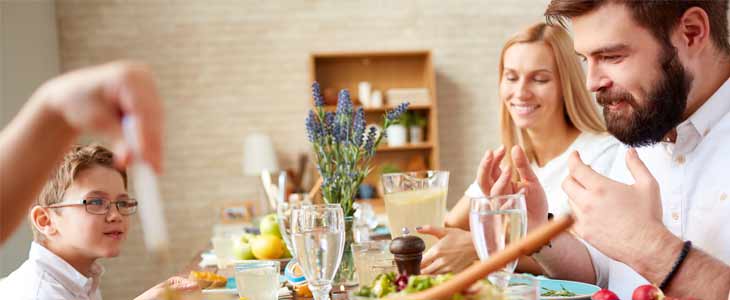 The reality of today's busy culture is that families face demanding schedules that chip away at quality time spent together.
"Finding a work-life balance in today's culture may require more creative ways to spend time together," says Kathleen Gettelfinger, a licensed marriage and family therapist at Gettelfinger Therapy in Chicago.
Busy schedules don't have to take away from family togetherness. Following are four ways parents can manage their time to foster family togetherness.
1. Take Occasional Vacation Days instead of Long Trips
Studies show a strong link between time spent together as a family and the general well-being of children, Gettelfinger says.
Many parents struggle to find time to be with their kids. Taking vacation days from work can help create family time.
Yet many people have difficulty finding the time to take off from work. In 2013, American workers forfeited 169 million days of paid time off, according to the U.S. Travel Association.
A recent Glassdoor survey found that fear factors are the biggest barriers to taking advantage of vacation days. Such fears include:
Concerns that a co-worker cannot sufficiently stand in for the vacationing employee
Anxiety about falling behind in workload
Fear of losing a job altogether
Employees with such concerns could take their vacation days in bite-sized pieces instead of planning long weeks off.
"One basic way to enjoy more family time is to take vacation - even if it's just one day," , says Gerri Detweiler, Director of Consumer Education at Credit.com. "That can really help you get things done so you can spend your weekend more meaningfully with your family."
For example, taking a weekday off to finish household chores, errands, or projects can free up more time on the weekend.
2. Get Creative with Meal Planning and Preparation
Having dinner together is still a big part of most American families' everyday lives.
Fifty-three percent of adults with kids younger than 18 say their family eats dinner together at home six or seven nights a week, according to a Gallup poll.
Still, attaining this fundamental mealtime together remains a challenge for many families. When kids have heavy homework loads and staggered times for extracurricular activities, it can be tough to bring the whole family together for dinner.
But you can overcome these obstacles by getting all family members involved in meal planning, and by creatively manipulating your schedule.
"Get everyone involved in family meals," says Detweiler. "Kids can help with prep work, setting the table and cleaning up. It sparks communication and spreads the workload out into manageable amounts for everyone."
"If you want to be less harried in the evenings, cook ahead," Detweiler adds. "Prepare meals in advance and freeze them."
Families also can swap meal times - instead of gathering for dinner, you can try sitting down together in the morning before taking off for work or school.
"You can be flexible about how you achieve that dining time together," says Gettelfinger. "A family that has breakfast together would enjoy the same benefits of togetherness as a family that has dinner together."
3. Unplug so you can Reconnect
When the family is gathered together in one room, proximity alone doesn't necessarily pass as family time.
"Engagement is intentional. That's different than the family being together, but everyone is buried in a device," says Gettelfinger. "There's something to be said for a quality five-to-ten-minute conversation."
She recommends having some device-free time during the day, You can also try establishing a no-phone zone somewhere in your house, such as the kitchen.
Whether communicating during a commute or reconnecting before bed, Gettelfinger recommends finding some meaningful time to spend with loved ones each day. Checking in could involve simply learning more about their day.
4. Just say 'no' to Excessive Outside Commitments
No one can "do it all." So, cut out commitments that aren't top priorities
"A common weakness is trying to do too much and not asking for help," says Detweiler.
Distinguish between things that must get done and things you would like to get done. Don't be afraid to say "no" to unnecessary activities, freeing up more time for what matters.
The views and opinions expressed in this article are those of the author and do not necessarily reflect the opinion or position of OneMain. The information in this article is provided for education and informational purposes only, without any express or implied warranty of any kind, including warranties of accuracy, completeness or fitness for any particular purpose. The information in this article is not intended to be and does not constitute financial, legal or any other advice. The information in this article is general in nature and is not specific to you the user or anyone else. The author was compensated by OneMain for this post.
Personal and auto loans from $1,500 to $25,000†
Get the money you need for:
Debt Consolidation
Auto Loans
Household Bills
Vacations
apply now!