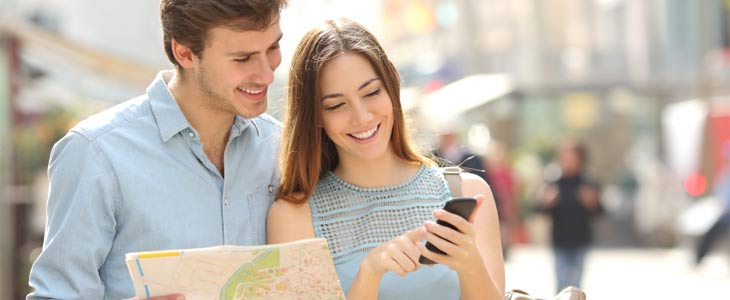 As you plan your road trip, and while you're on the road, you'll want to do some research about ways to go and sights to see. Here are some resources to use before and during your trip in order to make your road trip even better:
Navigation

GasBuddy
Free
Get it:

This app is the all-around favorite for those looking to save money on gas. It allows you to plan your fueling strategy so you can find the most economical places to fill up your tank.

GasBuddy users can report gas prices they see, and earn points, which can be put towards entries into various contests on GasBuddy.


Waze
Free
Get it:

Picture this: you're on a road trip, and it's smooth sailing. Then, all of a sudden, things start to slow down and you're stuck in traffic. Once you finally get to the front, you realize that the whole slowdown was caused by one broken down car.

What's great about Waze is that it can help you anticipate these slowdowns and find alternate routes. Waze connects drivers so that people can inform one another about traffic conditions in real time. Drivers can simply leave the app open and let it automatically keep other Waze users informed about traffic conditions, or your navigator can make notes to update other users.


Google Maps
Free
Get it:

Google Maps is a great tool on desktop or mobile. It's a useful navigational resource both before and during your trip.

As mentioned in an earlier article, it's a good idea to have an idea of where you're going before you go but, if you need to look something up last minute, Google Maps can be a good option.


Roadtrippers
Free
Get it:

This app is helpful for finding both routes and destinations. Roadtrippers allows you to see and use some example road trips or plan your own itinerary. See reviews as you plan your path and find main attractions and offbeat places to check out along the way.


iExit
Free
Get it:

If you're looking to quickly stretch your legs and get a bite to eat, but don't know where to stop, this app could be the answer. It allows you to look ahead to see the amenities at the next stop, helping you eliminate the guesswork and find the right rest stop for you.
Places to Go

Yelp
Free
Get it:

Yelp is a great tool for finding places to go while in your home city or on the road, especially for restaurants or stores. The reviews and details about the businesses - like whether a place is vegetarian-friendly, kid-friendly, or accepts reservations - can help you make plans that fit your needs.


Trip Advisor
Free
Get it:

TripAdvisor is also a great resource for finding places to go, particularly hotels and sightseeing attractions. Like Yelp, the reviews are extremely helpful - users will leave comments like "had a great view" or "not good for kids," which then might be affirmed by other users, and can be an invaluable resource when you're in a new city.


TVFoodMaps
Free
Get it:

If you've got a passion for TV shows about restaurants (think Diners, Drive-Ins, and Dives or Man vs. Food, for instance), this app could be just what you need. See the restaurants on the map or search for restaurants by show or popularity.


Oh, Ranger! Parkfinder
Free
Get it:

Looking for some natural beauty to add to your trip? This is the app for that.

Find extensive details about some of America's most beautiful stretches of land, from national parks to local parks. Sort parks by location and/or by the types of activities that you can do there.


Roadside America
$2.99 (for one region); can buy all additional regions for $5.99 or each additional region for $1.99
Get it:

Though this app does cost money, it gives you a lot of information and helps you find some of America's quirkiest and coolest sights. The app allows you to read editors' reviews of different attractions, save directions for offline use, and see when you're approaching attractions.
Places to Stay

Hotel Tonight
Free
Get it:

While it's always a good idea to do some research and make plans ahead of time, this app is here for when plans fall through and you find yourself in need of a place to stay. Like the name suggests, Hotel Tonight helps you find the right hotel for you last-minute, up to 7 days before you need it. Not only that, but you can find good deals and book easily.


Airbnb
Free
Get it:

This site and its app both are excellent resources for people looking for a place to stay. Find places unlike your standard hotel - an apartment in a city or a cottage on the beach, for instance - with little hassle and at generally reasonable prices. See pictures and read travelers' reviews as you make your decisions.
Miscellaneous

Weather Underground
Free
Get it:

It's always a good idea to have a good weather app so you don't get stuck in the rain at the wrong time. This one has a wealth of details about current conditions and historical data, and has maps and radar so you can get a sense of what to expect. You can also get alerts about extreme weather. Users can help other users by reporting current weather conditions in their areas.


Postagram
Free (costs $0.99 to mail a postcard to a US address)
Get it:

Once you're on the road, you'll want to share some photos with friends and family! Postagram allows you to turn your photos into physical postcards, which can be sent to addresses in the US or around the world. Postage costs $0.99 if you're sending to an address in the US or $1.99 if you're sending it to an address outside the country.




The views and opinions expressed in this article are those of the author and do not necessarily reflect the opinion or position of OneMain. The information in this article is provided for education and informational purposes only, without any express or implied warranty of any kind, including warranties of accuracy, completeness or fitness for any particular purpose. The information in this article is not intended to be and does not constitute financial, legal or any other advice. The information in this article is general in nature and is not specific to you the user or anyone else. The author was compensated by OneMain for this post.