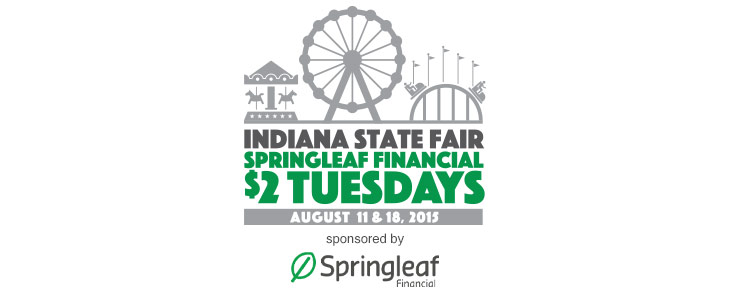 From August 7th to 23rd, the nation's sixth oldest state fair will take place in Indianapolis, Indiana. When it was first held in 1852, the Indiana State Fair was a gathering for farmers. Today, the fair provides entertainment for a much wider audience.
"There's always something for everyone there, whether you're there to enjoy the music, the rides on the midway, the animals, or the food," says Jason Bennett, branch manager at a company branch in Indianapolis.
Bennett has attended the fair for 15 years. He says that what makes this event so unique is its demographics. He calls the fair "a melting pot," with "such a large number of people - people from the city, from out in the country, old people, young people" all gathered at the fair, enjoying a diverse array of entertainment.
Still, the fair finds ways to celebrate its heritage. Each year, the fair holds agricultural events in addition to the concerts, carnival rides, and other activities. This year's fair is called "The Year of the Farmer," in dedication to Indiana's agricultural industries and the people involved in it.
This year, Springleaf* is proudly sponsoring "$2 Tuesdays." As part of $2 Tuesdays, fairgoers can attend the festivities on Tuesday, August 11th or 18th for just $2 (a savings of $10 off the regular price of admission). To get this deal, people can pick up admission vouchers from any Springleaf branch in Indiana OR print out vouchers from your computer. Visit this page for directions on how to print your voucher.
Through Friday, August 7th at 5 PM, people can also enter a drawing for a chance to win the Family Fun package - $400 for fun and refreshments, 4 tickets for any day, and a 1-day VIP parking pass.* Visit any branch in Indiana before 5:00 PM (ET) on 8/7/2015 to enter the sweepstakes. Subject to Official Rules here.
Team members from 15-20 branches will also be representing Springleaf at the fair. Bennett and other Springleaf team members will be at the Springleaf booth on Tuesdays and on weekends at the fair, handing out tote bags and corn pens. The Springleaf booth will also be equipped with a charging station, so stop by to charge up your phone!
Bennett is also looking forward to taking his family to the fair. He enjoys "seeing their happy faces" as they see the sights of the fair. It's also a great opportunity to have one last fun celebration before the summer ends and the kids go back to school. "We like getting the kettle popcorn - and getting a bag to bring home," he adds.
Erich Erst, branch manager in Greencastle, Indiana, is looking forward to exploring the fair with his kids for the first time. He's heard lots of stories about the fair from friends and neighbors, and has gotten lots of recommendations for things to see and try there - "'make sure you try the cheese curds,'" one friend recommended.
Erst is excited about Springleaf's $2 Tuesdays at the fair. "It's like our day, and we're helping that day become better by helping people get in cheaper."
Together, the reduced cost of admission, the giveaways, and the chance to spread the word about Springleaf make the event special for the team, according to Erst.
Erst looks forward to chatting with fairgoers at the Springleaf booth. Springleaf team members will be ready to help people apply for a loan online. "It's very unique that we're going to be taking applications there. It's a pretty neat experience for the employees, and maybe for the customers too, who wouldn't be expecting financial solutions to be brought to them right there."
To get your $2 Tuesday vouchers, stop by a Springleaf branch or visit this page. For more information about the Indiana State Fair, visit the event website.
*NO PURCHASE NECESSARY TO ENTER OR WIN. A PURCHASE WILL NOT INCREASE YOUR CHANCE OF WINNING. Open only to legal residents of KY, IL, IN, MI and OH, age 18+. Void where prohibited.
* Please note that Springleaf has changed its name to OneMain.
The views and opinions expressed in this article are those of the author and do not necessarily reflect the opinion or position of OneMain. The information in this article is provided for education and informational purposes only, without any express or implied warranty of any kind, including warranties of accuracy, completeness or fitness for any particular purpose. The information in this article is not intended to be and does not constitute financial, legal or any other advice. The information in this article is general in nature and is not specific to you the user or anyone else. The author was compensated by OneMain for this post.