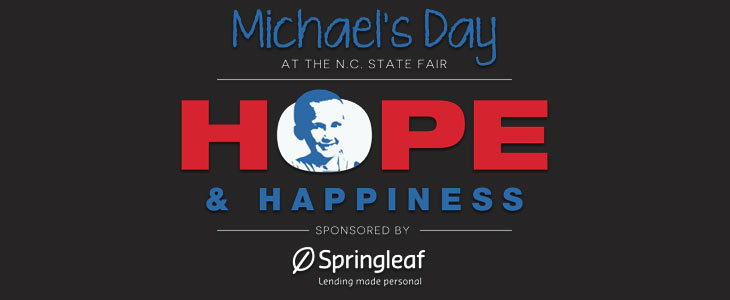 Springleaf* is the presenting sponsor for Michael's Day on October 24th, at the North Carolina State Fair in Raleigh, NC. Michael's Day commemorates the life of Michael Breuer, a young boy who passed away last year at age 7 from neuroblastoma, a rare type of cancer that primarily affects young children. One of Michael's last wishes was to attend the NC State Fair last year, a wish he was not granted.
In honor of Michael, who loved the State Fair, children from the Ronald McDonald House will be able to attend the fair and enjoy the rides with their families at no cost. Springleaf will also be providing free transportation to the 250+ individuals expected to participate.
"Michael's Day is a great way to give these families time to reconnect and have fun together," said Springleaf CEO Jay Levine. "We are a proud sponsor and enjoy partnering with great organizations like Ronald McDonald House to make a difference in the communities where we live and work."
35 volunteers from Springleaf will attend the State Fair on Michael's Day, October 24th, and October 25th in support of the cause. In exchange for a $1.00 donation, Springleaf team members will hand out "Hope and Happiness" bracelets at the Springleaf booth. All of the proceeds collected will be donated to Ronald McDonald House in Durham, NC.
One of the Springleaf team members who will be participating is Angela Hilburn, branch manager of the Springleaf branch in Clinton, NC. "I'm so proud Springleaf is supporting Michael's Day. It's especially meaningful to me because my daughter, Brooke, was also diagnosed with Neuroblastoma at age four and she lost her battle with this awful disease at only six years of age," Hilburn said.
"As a parent who has experienced this, I know how much it means to have support from others. It is with great honor that I will be attending this event," she adds. Hilburn recalls the support of her Springleaf colleagues throughout that period. "The support during my child's illness was phenomenal. The fact that the company stood behind me...meant a lot."
When Hilburn found out that Springleaf would be sponsoring Michael's Day, she was excited. "It really means a lot. I can't stress that enough," she says.
By sponsoring this event, Springleaf will be able to raise awareness about childhood cancer. According to Hilburn, because of the rarity of its occurrence, "a lot of people don't realize that childhood cancer doesn't get as much funding for research as other types of cancer."
Supporting the Ronald McDonald House is also "a big deal," says Hilburn. She is very grateful for the resources, accommodations, and support she received from the community at Ronald McDonald House during her daughter's battle with her illness.
Being able to stay there and interact with other families in the same situation helped Hilburn greatly. "You need that kind of support - not necessarily financial, but the thoughts and the caring."
Hilburn looks forward to showing her support and bringing the cause to the forefront on Michael's Day. She is hopeful about the impact that Springleaf can make on the lives of the children and families dealing with illness.
"We're a huge company, and we can make a big difference."
To learn more about Michael's Day at the North Carolina State Fair, please visit this page. For more information about Ronald McDonald House Charities of North Carolina, please visit their website.
* Please note that Springleaf has changed its name to OneMain.
The views and opinions expressed in this article are those of the author and do not necessarily reflect the opinion or position of OneMain. The information in this article is provided for education and informational purposes only, without any express or implied warranty of any kind, including warranties of accuracy, completeness or fitness for any particular purpose. The information in this article is not intended to be and does not constitute financial, legal or any other advice. The information in this article is general in nature and is not specific to you the user or anyone else. The author was compensated by OneMain for this post.