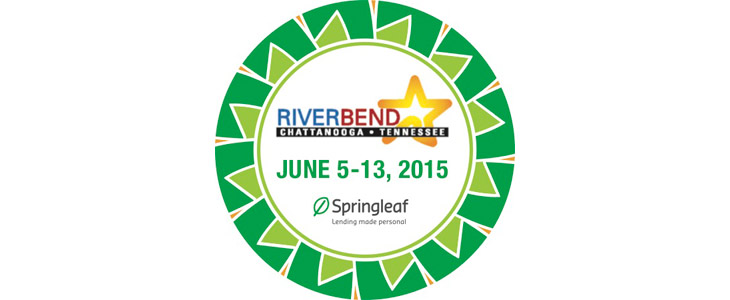 From June 5-13, the Riverbend Festival will take over the city of Chattanooga, Tennessee. The festival, now in its 33rd year, is a major part of Chattanooga's culture.
"The Riverbend Festival is a big deal around the town," says Heath Davis, manager of a Springleaf* branch in nearby Hixson, TN. "So many people here have memories of going to the Riverbend Festival as kids, or of their parents going to the festival for a date night, while they stayed home with their grandparents."
Located on the shores of the Tennessee River, in the heart of downtown Chattanooga, the festival draws over 600,000 people during the 8 nights of music, river floats, food, and fun. For a city with a population of around 170,000, this event is no small affair.
According to Davis, the city buzzes with anticipation for Riverbend Festival year-round. "The whole town kind of rallies around it."
On the Riverbend Festival's Twitter account, you see evidence of this year-round excitement, with many enthusiastic posts about the festival lineup being favorited and shared by eager fans.
This year's lineup has something for everyone, featuring artists from a wide variety of genres on multiple concert stages. The program includes many nationally-known artists, including 3 Doors Down, Martina McBride, Merle Haggard, Hunter Hayes, Melissa Etheridge, and Stone Temple Pilots.
Still, local and emerging bands are a big part of the festival's identity. Riverbend Festival coordinators "do a good job getting up-and-coming bands," Davis says. "They try to keep it a big local festival."
Though music is a major part of the festival, it is more than just a music festival. "There's lots of things to look at," Davis says. Davis enjoys checking out the exhibits area, which often includes interactive exhibits, as well as the people-watching--some people don eye-catching costumes while enjoying the festival.
Getting the opportunity to try new types of food is another highlight for Davis. However, the festival features classic cuisine too. At the Bessie Smith Strut (referred to as "The Strut," by Chattanooga natives), barbecue, as well as renowned blues bands & emerging local bands, takes center stage.
Yet what Davis really looks forward to is the chance to just talk to people. He and his branch team, along with Springleaf team members from 4 other branches, will be participating in the festival, greeting people who visit the Springleaf booth.
Springleaf is proud to be a sponsor of Riverbend Festival. Springleaf is also proud to have team members like Davis and other Chattanooga-area branch employees. The hands-on participation and hard work of Springleaf team members, both at special events and at their branches, make the company local and personal.
As Davis points out, it's essential for a company to participate in important community events like these in order to really be part of the community. And it's pretty clear that Riverbend Festival is the perfect example of an important community event.
"It's not just a concert...it truly is part of Chattanooga."
To buy tickets, see how to get your festival tokens, and find more information, check out the Riverbend Festival site.
* Please note that Springleaf has changed its name to OneMain.
The views and opinions expressed in this article are those of the author and do not necessarily reflect the opinion or position of OneMain. The information in this article is provided for education and informational purposes only, without any express or implied warranty of any kind, including warranties of accuracy, completeness or fitness for any particular purpose. The information in this article is not intended to be and does not constitute financial, legal or any other advice. The information in this article is general in nature and is not specific to you the user or anyone else. The author was compensated by OneMain for this post.