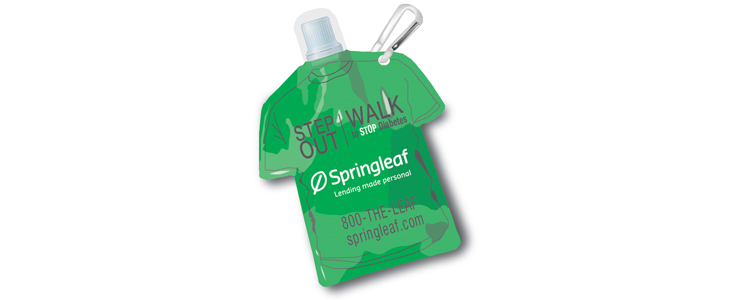 This Saturday, 1,000 walkers will gather to support diabetes research at the Step Out: Walk to Stop Diabetes in Mobile, AL. Springleaf will be sponsoring as well as participating in the event, which consists of a 3-mile walk, followed by music and a festival.
This event is one of many that the American Diabetes Association does nationwide. Since the first event more than 20 years ago, these events have raised over $200 million, which went toward furthering the mission of the ADA: "to prevent and cure diabetes and to improve the lives of all people affected by diabetes."
"It's a very important event," says Sheila Dycus, Springleaf* branch manager at one of the Mobile, AL, Springleaf branches. This will be Dycus's first diabetes walk event, and she is looking forward to participating. "It's good for us to do this because I have diabetes," says Dycus. "This will help us make [the cause] known to other employees and to customers."
Dycus says that she, like many people, did not know much about diabetes before she was diagnosed. "A lot of people don't know everything that can happen or go wrong" if they do not care for themselves to prevent diabetes.
Once she was diagnosed, she remained unaware of how to take care of herself properly. It took some sobering events to make her take the disease seriously.
"We've had a lot of customers die of diabetes. That was a big wake-up call," says Dycus. Now she makes sure to take care of herself, while advocating that others do the same. Recently, she and her branch team have been participating in a friendly competition to see who walks the greatest distance each day.
As Dycus says, participating in this event is a great way to raise awareness about the effects of diabetes and the importance of taking care of oneself.
Dycus, her branch team, 3 other branches, their families, and customers will all be participating as Team Springleaf. After the walk, she and the Team are looking forward to chatting with other supporters at the Springleaf tent and enjoying the festival.
Dycus is very excited about getting out in the community and walking with her family and Springleaf family. "I need that exercise," she says, laughing.
To get involved in the event, visit the Step Out: Walk to Stop Diabetes website. There you can register to join Team Springleaf for the walk or donate to the cause.
* Please note that Springleaf has changed its name to OneMain.
The views and opinions expressed in this article are those of the author and do not necessarily reflect the opinion or position of OneMain. The information in this article is provided for education and informational purposes only, without any express or implied warranty of any kind, including warranties of accuracy, completeness or fitness for any particular purpose. The information in this article is not intended to be and does not constitute financial, legal or any other advice. The information in this article is general in nature and is not specific to you the user or anyone else. The author was compensated by OneMain for this post.