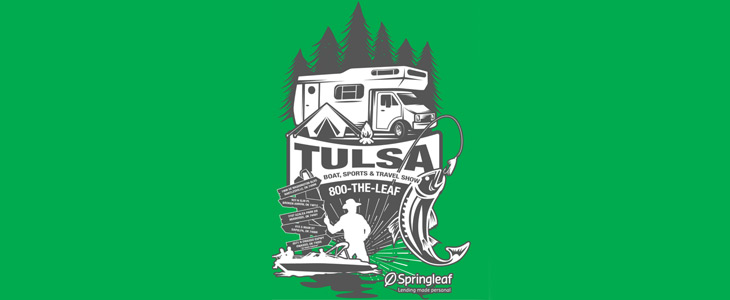 In northeastern Oklahoma, people are getting revved up for the 60th Annual Tulsa Boat, Sport & Travel Show. At the event, merchants will exhibit hundreds of RVs and boats, from fishing boats to ski boats. Boats and RVs are a big part of life in northeastern Oklahoma, which is called "the green country" because of its natural beauty. Residents of the region enjoy access to many lakes, which makes water-related activities very popular. Many people travel in RVs to visit the different lakes.
"Fishing is the sport here," says Stephanie Rose, Springleaf* branch manager in Owasso, OK. Rose, who moved to Oklahoma from El Paso, Texas two years ago, has enjoyed trying the area's most popular activities, which were all very new to her.
According to Rose, lots of people from around the region flock to this event to see the boats. However, many people might just be there to look, because they are not aware that they could finance boats and RVs to be used for recreational purposes.
Rose hopes that Springleaf, which will be present all seven days of the event, will be able to make certain purchases a possibility for some individuals. She and her colleagues from the five Springleaf branches in northeastern Oklahoma will be at the event with iPads in order to help people fill out loan applications.
Rose is also looking forward to spreading the word about Springleaf, so that people who may not be ready to buy on the spot will know that getting a loan from Springleaf to use for a future purchase may be an option.
As for Rose, there may be some more fishing practice in her future. "I come from a desert," she says, laughing. "I'm not good at fishing, but I tried!"
For more information about the Tulsa Boat, Sport & Travel Show, please visit the event website.
* Please note that Springleaf has changed its name to OneMain.
The views and opinions expressed in this article are those of the author and do not necessarily reflect the opinion or position of OneMain. The information in this article is provided for education and informational purposes only, without any express or implied warranty of any kind, including warranties of accuracy, completeness or fitness for any particular purpose. The information in this article is not intended to be and does not constitute financial, legal or any other advice. The information in this article is general in nature and is not specific to you the user or anyone else. The author was compensated by OneMain for this post.