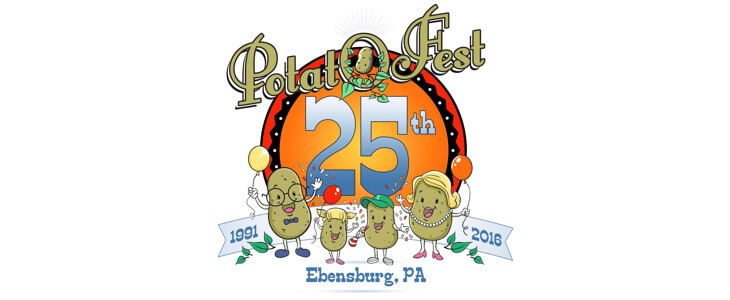 September 24: Ebensburg PotatoFest in Ebensburg, PA
By Matt Diehl • September 19, 2016
Celebrating its 25th Anniversary in 2016, Ebensburg PotatoFest is an annual celebration of potatoes and their farmers in Ebensburg, PA. Located in Cambria County, the second largest potato producing county in Pennsylvania1, the city of Ebensburg blocks off several downtown streets to host the event. The festival is always held on the last Saturday of September and offers food, crafts and entertainment for people of all ages.
Drawing close to 20,000 people each year2, PotatoFest bakes a lot of fun into a single day event. Children get to enjoy a potato patch, bouncy obstacle course and many other exciting activities. Adults can take part in the Wine Tasting Extravaganza hosted by the Ebensburg Fire Department, browse dozens of vendor stations and listen to live music in four different areas. 16 food vendors will be on-site offering a variety of potato dishes including potato soup, potato pizza and homemade potato chips.
Springleaf will be sponsoring PotatoFest for the third time and is partnering with the Ebensburg OneMain Financial branch as well. Tammy Sral, Branch Manager of the Ebensburg, PA branch, is in charge of onsite operations: "We're going to have a large booth and hand out a variety of free Springleaf and OneMain merchandise including chip clips, potato peelers, french fry cutters and pens. Most of all, we look forward to interacting with the people and taking part in one of Ebensburg's largest local community gatherings of the year!"
For more information, please visit the Ebensburg PotatoFest website.
1http://ebensburgpa.com/potatofest/
2https://www.resortsandlodges.com/articles/a/potatofest-potatos-fun-and-everything-in-between
Do you like this article? Let us know!
4
---
The views and opinions expressed in this article are those of the author and do not necessarily reflect the opinion or position of OneMain. The information in this article is provided for education and informational purposes only, without any express or implied warranty of any kind, including warranties of accuracy, completeness or fitness for any particular purpose. The information in this article is not intended to be and does not constitute financial, legal or any other advice. The information in this article is general in nature and is not specific to you the user or anyone else. The author was compensated by OneMain for this post.