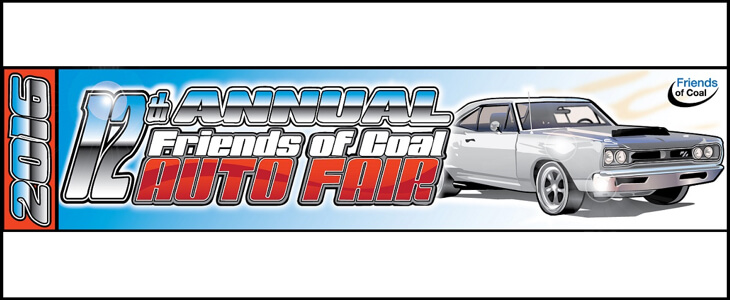 July 15-16: Friends of Coal Auto Fair in Beaver, WV
By Matt Diehl • July 11, 2016
If you enjoy car shows and supporting a great cause, the Friends of Coal1 Auto Fair in Beaver, WV offers two days of engine-revving excitement. Held at the Raleigh County Memorial Airport, this large-scale event is a result of hundreds of companies and individuals donating their time and resources for one common goal: raise money for the Hospice of Southern West Virginia (HSWV). All proceeds of the Auto Fair go to the Hospice which helps serve the needs of individuals suffering from life-limiting illnesses as well as the individuals caring for them.
When the gates open, over 500 vehicles will be on display including muscle cars, classic cars and motorcycles. Private owners and car clubs are encouraged to participate and prizes will be awarded for best burnout, best hydraulics and more. The Auto Fair is known for giving out hundreds of prizes and giveaways each year to make the experience special for everyone.
As for other forms of family-friendly adrenaline, games and raffles will be held throughout the spacious grounds. Attendees can cruise by Food Vendor Alley for a variety of food and beverages and Sponsor's Row features booths and displays from various sponsors. The festivities will be topped off with a concert by country star John Anderson and a fireworks display.
Springleaf* has sponsored the Auto Fair for three years and will be co-sponsoring with OneMain Financial for the first time in 2016. Pamela Adams, branch manager of the Beckley, WV branch and Springleaf employee of 14 years, will be working with the Beckley, WV OneMain branch to engage the local community and build relationships with local businesses. Adams is excited to be a part of the co-branding venture and share in the fun they have planned for visitors: "The OneMain Nascar will be on-site along with two Nascar simulators for attendees to use. We've had the simulators in the past and they were a big hit. We will also have a drawing to win a meet & greet backstage pass for the country star that will be performing [John Anderson]."
For more information on the event, please visit the Friends of Coal Auto Fair website.
*Springleaf is now OneMain Financial.
1http://www.friendsofcoal.org/about.html
Do you like this article? Let us know!
2
---
The views and opinions expressed in this article are those of the author and do not necessarily reflect the opinion or position of OneMain. The information in this article is provided for education and informational purposes only, without any express or implied warranty of any kind, including warranties of accuracy, completeness or fitness for any particular purpose. The information in this article is not intended to be and does not constitute financial, legal or any other advice. The information in this article is general in nature and is not specific to you the user or anyone else. The author was compensated by OneMain for this post.