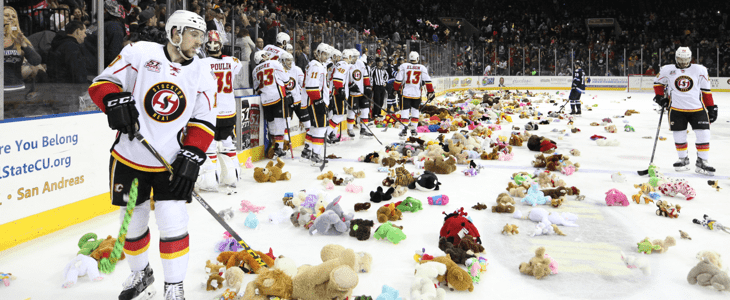 <p class="pad-top"></p>

The Stockton Heat, a professional hockey team in Stockton, CA, will be hosting their 12th Annual Teddy Bear Toss on Saturday, January 21. Held to benefit local children in need, fans come with teddy bears and stuffed animals to toss onto the ice after the Heat score their first goal. In 2016, the team set the current record of 8,231 stuffed animals.
Fans are encouraged to start collecting weeks in advance and OneMain is proud to support the effort. As a corporate sponsor of the Stockton Heat, several area branches will be holding stuffed animal drives including Stockton, Lodi, Manteca and Elk Grove. The drive will be held from January 4-20 and will feature Heat mascot Frankie the Firebird at our Stockton branch on January 10. Each person who donates a stuffed animal will receive a $5 coupon off the price of admission for the Teddy Bear Toss game.
District Manager Sara Ross will be leading the collection and game day efforts for OneMain. Ross has been with the company over six years and looks forward to helping out: "We will be collecting stuffed animals at the branches as well as providing stuffed animals to purchase at the branch for donations. On January 21, we will be dropping off all the donated animals to the [game]."
In addition to the drive, Ross and other OneMain volunteers are excited to experience the Teddy Bear Toss for a second time:
"Last year was the first year that we were a part of Teddy Bear Toss night. [It] was absolutely fantastic because a total of 8,231 bears were thrown onto the ice! It was [also] incredibly cool to watch the shower of the bears and to be able to have our branches go out onto the ice in their OneMain shirts and pick up the teddy bears. There were so many that the hockey players from both teams had to come out and help us!"
Most of all, Ross is excited to help spread joy and hopefully set a new record: "It was just an amazing sight to see so many people come together to help the local children feel special. This year we need everyone's help to top last year!"

For more information on the Teddy Bear Toss, please visit the Stockton Heat website.