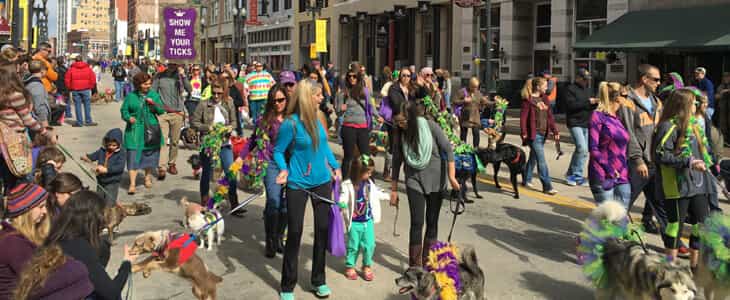 March 4: Mardi Growl in Knoxville, TN
By Matt Diehl • March 01, 2017
On Saturday, March 4, Knoxville will be celebrating its 10th Annual Mardi Growl pet parade and fundraiser. Voted as Knoxville's Best Nonprofit Fundraiser1, it's also the city's largest pet-friendly event. All proceeds of Mardi Growl will benefit The Young-Williams Animal Center, a nonprofit organization and the official animal shelter for Knox County and the City of Knoxville.
In addition to the hour-long parade, a two-hour festival will take place at the end of the route in Market Square. The festival will feature over 60 vendors, live music and a costume contest for categories such as "Best Dog Couple" and "Best Dog/Owner Look-alike." Pet owners can also take advantage of several discounted services including microchips and vaccines for $10 and pet ID tags for $5.
As a first time sponsor of Mardi Growl, OneMain is proud to support the event. In fact, several area branches including Merchant Drive, Clinton Highway, Lenoir City and Jacksboro conducted a districtwide pet supply drive during the month of February. All donations from the drive will benefit The Young-Williams Animal Center.
Amie Peercy, Branch Manager of the Merchant Drive branch and OneMain employee of six years, is excited for the parade day: "We will have a booth set up during the festival and hand out OneMain cell phone lanyards, water bottle koozies, shopping bags and dog bone keychains. I look forward to talking with the crowd and spreading the OneMain name!"
As an animal lover, Mardi Growl will be extra fun for Peercy: "[Mardi Growl] is special because pet owners get to bring their pets downtown and walk them all dressed up in their best attire. I can't wait to see the costumes and talk to fellow pet lovers about their furbabies."
For more information, please visit the Mardi Growl event page.
1http://www.young-williams.org/blog/2015/03/06/record-number-of-participants-expected-for-8th-annual-mardi-growl/
Do you like this article? Let us know!
7
---
The views and opinions expressed in this article are those of the author and do not necessarily reflect the opinion or position of OneMain. The information in this article is provided for education and informational purposes only, without any express or implied warranty of any kind, including warranties of accuracy, completeness or fitness for any particular purpose. The information in this article is not intended to be and does not constitute financial, legal or any other advice. The information in this article is general in nature and is not specific to you the user or anyone else. The author was compensated by OneMain for this post.