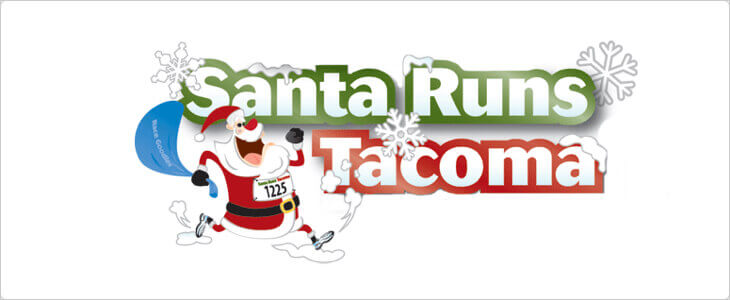 December 10: Santa Runs Tacoma in Tacoma, WA
By Matt Diehl • December 05, 2016
On the morning of Saturday, December 10, the streets of downtown Tacoma will be overrun with elves, reindeer and possibly a few Santas. Organized by The Tacoma City Marathon Association, the 8th Annual Santa Runs Tacoma is a costume friendly event open to runners of all ages. Participants will have four races to choose from which range from Tiny Tim's 1k Kid's Run to Donner & Blitzen's 21k. Awards will be given for the individual winner of each race as well as the top five men and women finishers of each age division.
In addition to race winners, a panel of judges will also choose awards for the best costumes. There is no signup necessary and the categories will include Best Individual, Best Group (2 - 4 people) and Best Youth (14 and under). All awards will be handed out during a ceremony at the conclusion of the event.
OneMain is sponsoring Santa Runs Tacoma for the second year in a row and also has a team of employees running in the event. Bryant Hunter, Branch Manager of the South Mildred Street branch and Onemain employee of eight years, will be a race participant and also lead our onsite operations: "We have a group of five people participating in the run including employees from the Puyallup and Spanaway offices. Our marketing booth will be set up at the finish line where team members will pass out OneMain merchandise and brochures."
Hunter also added that he's excited to get in the spirit with his community: "I'm looking forward to seeing the different outfits people wear. [The event] is an active way to kick off the season and gets people in the mood for the holidays."
For more information, please visit the Santa Runs Tacoma website.
Do you like this article? Let us know!
4
---
The views and opinions expressed in this article are those of the author and do not necessarily reflect the opinion or position of OneMain. The information in this article is provided for education and informational purposes only, without any express or implied warranty of any kind, including warranties of accuracy, completeness or fitness for any particular purpose. The information in this article is not intended to be and does not constitute financial, legal or any other advice. The information in this article is general in nature and is not specific to you the user or anyone else. The author was compensated by OneMain for this post.