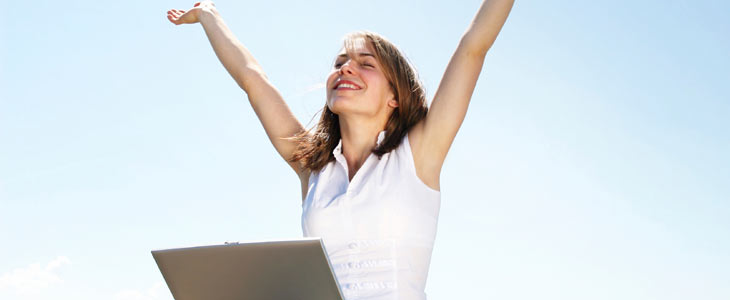 Super Simple Ways to Raise your Credit
By C. McClane • April 21, 2015
If your credit score could use a little push, help is on the way. These four simple tips may raise your score without too much hassle.
Know the Score on Scoring Models
There's more than one credit scoring model out there, but one is used the vast majority of the time. According to the Fair Isaac Corporation, the company who created the FICO scoring model, FICO is used in 90 percent of lending decisions.
Raising your credit score starts with understanding how your score is calculated. In the FICO model, two factors account for 65 percent of your credit score: your payment history and the ratio of how much credit you have versus how much debt you carry.
"You want to keep that under 30 percent but here's a secret. If you really want to boost your score, keep that ratio at 10 percent or under,"" says Beverly Harzog, author of Confessions of a Credit Junkie.
The remaining portion of the FICO score is determined by the length of your credit history, the types of credit you have, and new credit (if you have any). Things like your salary, employment history, credit card interest rates, or whether you are participating in credit counseling are not factored in.
Pull your Credit Score Early
Consumers can pull a credit report from each of the three major credit bureaus once per year at AnnualCreditReport.com. The advantage to doing so months before applying for a loan is that you'll have time to dispute any mistakes, says Harzog.
"[Inaccuracies] are not all that uncommon," she says. "Errors do happen and they can drag down your score."
A study of more than 1,000 consumers by the Federal Trade Commission found that 25 percent found errors on their reports and one in twenty found an error sizable enough to boost their score by 25 points or more.
Even if you don't spot an error, pulling your report early can give you a chance to strengthen your weak spots and build positive credit history.
Remember all your Bills
Payment history accounts for a huge chunk of the FICO formula, which means that it's crucial to stay on top of your debts.
"One of the basics for improving your score is to pay all of your bills on time, not just the credit card bills but every bill you have," says Harzog. "A late utility bill could get reported to the bureaus or a late cell phone bill."
That doesn't mean that you should stop using your cards altogether for fear of missing a payment, Harzog adds.
"One of the myths out there is, 'Ok, I've got this credit card...I'm going to show that I have super self-discipline and I'm not even going to use it.' You can't build a credit score that way," she says. "What you want to do is use [your card] a little bit every month, keep that balance low, below ten percent when you're trying to boost your score, and pay it in full by the due date and keep doing this. That's how you build a credit score."
Get secure
Those with little or damaged credit can get back in the game by getting a secured credit card. Secured cards require a deposit, which directly corresponds to the amount of credit you'll be eligible for, but can be an easy way to start raising your score.
If you plan to apply for a loan in the near future, investigate secured credit options now says Harzog.
"If you have no credit, it takes about six months to generate a credit score," she says.
Sources
1. http://www.myfico.com/CreditEducation/WhatsNotInYourScore.aspx
2. http://www.myfico.com/crediteducation/whatsinyourscore.aspx
Do you like this article? Let us know!
12
---
The views and opinions expressed in this article are those of the author and do not necessarily reflect the opinion or position of OneMain. The information in this article is provided for education and informational purposes only, without any express or implied warranty of any kind, including warranties of accuracy, completeness or fitness for any particular purpose. The information in this article is not intended to be and does not constitute financial, legal or any other advice. The information in this article is general in nature and is not specific to you the user or anyone else. The author was compensated by OneMain for this post.