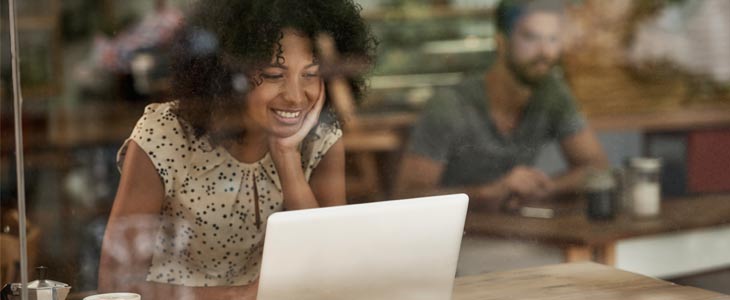 Why Young Adults Should Care About Their Credit
By Chris Kissell • April 02, 2015
Building a credit history early in life can make a big difference when it comes time to buy a first car or home.
Young adults may feel they can wait before establishing their credit history. But credit affects their lives soon after college, says Julie Heath, director of the Economics Center at the University of Cincinnati.
"Sometimes, young adults think that a good credit score isn't as important to them because they're not yet in a position to buy a house," she says. "But a good credit score affects them, too."
For example, employers often run credit checks on applicants. A 2012 survey by the Society for Human Resource Management found that nearly half of all companies run such checks on prospective employees.
In addition, many landlords run a credit score check on potential tenants before agreeing to offer a lease.
Young adults who have a solid credit history also benefit when applying for auto loans and credit cards.
"Those with good credit scores often get offered a lower interest rate, which may save them a lot of money," Heath says.
Establishing a Credit History
You are not born with a credit history. As a young adult, you need to show lenders you can borrow money responsibly - and pay it back.
Getting your first credit card can be a great way to build a credit history. Every bill you pay will contribute to your credit record.
Heath reminds new credit card users that the best way to build up a solid credit history is to pay off your debt every month.
"Avoid loading up a big balance on a single card," Heath says.
Make sure to pay your bill on time. In fact, paying promptly is often an effective pathway to a good credit score, says Anthony Sprauve, a spokesman for FICO, the company that generates the FICO credit score.
"Pay your bills on time, every time," he says.
More Tips for Building Credit
Other tips for establishing a credit history include:
Apply for credit selectively. Signing up for too many cards may make you appear desperate, which can discourage lenders from issuing credit to you, according to the National Foundation for Credit Counseling.
Consider a secured card. If you are just starting out as a young adult and are having trouble getting a standard credit card, consider applying for a secured card. This is an account in which you make a deposit with the lender issuing the card. You can use the card to buy items up to the amount of your deposit. Payments on this type of card count toward your credit history. A track record of paying on time may lead the card issuer to eventually offer you a standard credit card.
Ask your parents or spouse if you can "piggyback." A parent can add his or her children as authorized users on the parent's credit card account. A spouse can do the same for his or her partner.
Do you like this article? Let us know!
---
The views and opinions expressed in this article are those of the author and do not necessarily reflect the opinion or position of OneMain. The information in this article is provided for education and informational purposes only, without any express or implied warranty of any kind, including warranties of accuracy, completeness or fitness for any particular purpose. The information in this article is not intended to be and does not constitute financial, legal or any other advice. The information in this article is general in nature and is not specific to you the user or anyone else. The author was compensated by OneMain for this post.