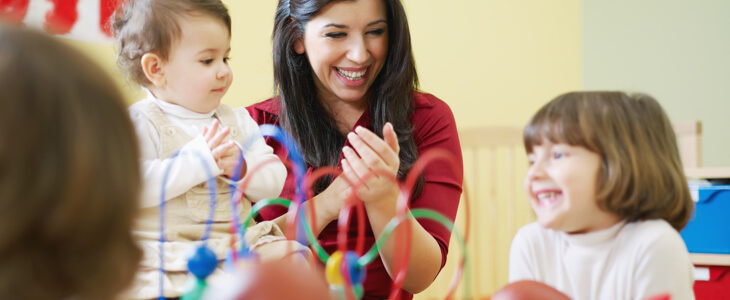 4 Ways to Save on Child Care
By Matt Diehl • February 07, 2017
According to a 2016 survey, 54% of American families spend more than 10% of their household income on child care1. For some families, the amount spent can exceed the cost of housing, college tuition, transportation or food2.
If you're looking for options to make child care more affordable, there are ways to reduce the impact on your family's expenses. Here are some tips to help you save on child care:
1. Arrange a parent share or co-op
Do you have family, friends or neighbors who are also looking to save on child care? If so, one way that you can all save money together is by arranging a parent share or co-op.
These setups consist of parents taking turns watching each other's children. To get a group
organized, parents can create a calendar of who will watch the children on what days based on their schedules. The group can also create a list of ground rules as well as clarify responsibility for individual costs such as food and diapers.
If you're interested in this concept but need to find compatible parents, online forums like Care.com Co-ops could help you connect with like minded families.
2. Ask family for help
If you have family who lives nearby, this could be an opportunity to lower your overall child care costs. In fact, some family members may offer to watch your children for free or at a reduced rate.
For those without relatives in the area, reach out to people you trust in your community. For example, your neighbor may have a teenager who would be willing to babysit at a low price. If you attend a church or other religious institution, they might provide a child care program that costs less than traditional day care facilities.
By seeking help from those closest to you, you could save money and allow your child to build deeper relationships with family and friends at the same time.
3. Talk to your employer
Does your employer offer child care benefits? If you've never asked or are unsure, talk to your employer to see what opportunities may be available to you.
Here are some potential options to discuss with your employer:
Enroll in company benefits - Company benefits can be a viable savings tool for some parents. In addition to saving money, perks such as Dependent Care Assistance Programs (DCAPs) and backup child care programs could also improve employee productivity and attendance.
Open a Dependent Care Flexible Spending Account (DCFSA) - DCFSAs are offered by participating employers and can only be set up by request3. This specialized account allows you to contribute up to $5,000 of pretax income per year toward dependent care expenses3. To see what expenses are eligible and how much you could save, read more about the savings power of a DCFSA.
Adjust your work schedule - From flex scheduling to working from home, adjusting your schedule could be cost-effective for some parents. For instance, if they allow you to work from home two times per month, you could save two full days worth of child care costs.
4. Take a tax break
When it comes to saving on child care, Uncle Sam might be able to help. In fact, the government offers two potential tax breaks to lower your taxable income and offset child care costs.
To learn more, check out the following information from the Internal Revenue System (IRS):
Child Tax Credit - If you have a child under the age of 17, you may be eligible to receive a tax credit of up to $1,000 based on your income and other qualifying criteria4. For complete details on eligibility requirements, look over these 10 facts about the Child Tax Credit.

Child and Dependent Care Tax Credit - If your company does not offer a DCFSA and you paid someone to care for your child, you may be eligible for the Child and Dependent Care Tax Credit. The credit allows you to claim up to $3,000 in qualifying child care expenses for one child and $6,000 for two or more children5. For more information, read the rules for claiming child and dependent care tax credit.
Consider all your options
Saving money on child care may require changes to your home and work life but it can be achieved. If you have questions during the planning process, ask other parents for advice or contacts who could help you. With some research and seeking help from those around you, you can better acquire the best care for your child and your budget with assurance.
1https://www.care.com/c/stories/2423/how-much-does-child-care-cost/ 2http://usa.childcareaware.org/advocacy-public-policy/resources/reports-and-research/costofcare/ 3http://www.investopedia.com/articles/pf/12/fsa.asp
4https://www.irs.gov/uac/ten-facts-about-the-child-tax-credit
5https://www.irs.gov/uac/newsroom/claiming-the-child-and-dependent-care-tax-credit
Do you like this article? Let us know!
8
---
The views and opinions expressed in this article are those of the author and do not necessarily reflect the opinion or position of OneMain. The information in this article is provided for education and informational purposes only, without any express or implied warranty of any kind, including warranties of accuracy, completeness or fitness for any particular purpose. The information in this article is not intended to be and does not constitute financial, legal or any other advice. The information in this article is general in nature and is not specific to you the user or anyone else. The author was compensated by OneMain for this post.