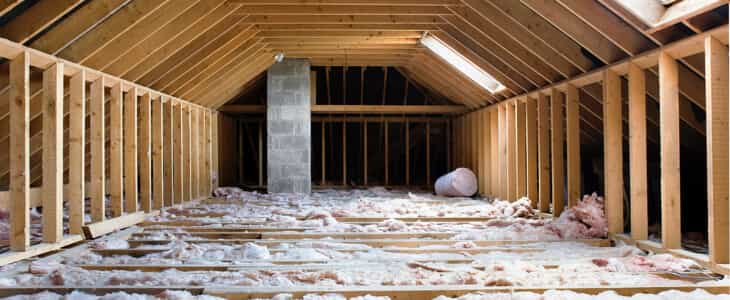 5 Ways to Get Your Home Winter-Ready
By Matt Diehl • October 25, 2016
When it comes to preparing your home for cold weather, there really isn't a bad time to get started. After all, Jack Frost isn't known to wait for an invitation.
From sealing drafty windows to buying a new snow shovel, the work you put in now could pay off when you need it most.
Here's a list of tips to help get your home safe, warm and winter-ready:
1. Replace weatherstripping
If you notice cold air seeping in around windows and doors, chances are your weatherstripping is worn and needs to be replaced. Weatherstripping is the material used to seal gaps around windows and entryways1. When it becomes old or damaged, warm air can escape and cold winds can blow in. Use this guide by the U.S. Department of Energy to help choose and install the best weatherstripping for your needs.
Another way to keep drafts out and heat in is to insulate your windows with plastic film. This solution may not be as long-lasting as new weatherstripping but it can be effective in keeping the cold air out of your home. If you live in extremely cold temperatures, try adding a layer of bubble wrap to the film for extra protection.
2. Add insulation to attic
According to statistics, 85% of heat loss escapes through the attic2. Whether it's due to air leaks, insufficient insulation or a combination of the two, there can be a serious consequence to consider along with losing heat - ice dams. Ice dams form when too much heat escapes into the attic and warms up the snow on the roof3. After the melted snow refreezes into ice, it can trap water under roof shingles which can lead to water damage inside your home.
Proper attic insulation can help prevent both heat loss and ice dams. Here are some tips and precautions to consider when adding insulation to your attic4:
Measure the square footage of your attic to ensure you purchase a sufficient amount of insulation.
Make sure the insulation has no paper or foil backing. This is referred to as "unfaced" insulation and is recommended for attics since it does not trap moisture in the ceiling.
Wear pants, a long-sleeve shirt, eye mask, dust mask and gloves to protect against the glass fibers in the insulation during installation.
For more detailed instructions, please read ENERGY STAR's DIY Guide to Sealing Air Leaks and Adding Attic Insulation.
3. Inspect roof
When it comes to preventative home maintenance in general, inspecting your roof may be near the top of the list. Annual roof inspections can help you find small issues to repair before they become big problems. This can be a dangerous task, so if you don't feel comfortable performing the inspection yourself, it may be advisable to hire a professional. Many roof inspectors offer a flat rate for standard inspections but the rate can fluctuate due to the size, slope and type of roof5.
Three major areas of inspection should include6:
Shingles - check for curling, buckling, tearing or missing shingles
Gutters - make sure gutters are secure and free and clear of debris
Flashing - confirm that flashing is not rusted, dented or damaged
4. Stock up on equipment
The first storm of the season could happen before you know it. To avoid being caught unprepared, go to your shed or garage and make sure you have the essentials to weather a storm. If you use machinery such as a snow blower or generator, get the engines tuned and keep gallons of gas on hand.
Some basic winter equipment to stock in your inventory should include:
Snow shovel
Ice pick
Salt
Salt spreader
5. Service your furnace or boiler
Similar to vehicle engines, furnaces and boilers require regular tune-ups to operate at peak performance. These inspections are performed to prolong operating life but they can also help recognize gas and carbon monoxide leaks. Cleaning and inspecting your own furnace is possible but it may be worth calling a certified technician for professional evaluation and service.
Let it snow
Winter can be a beautiful time of year but it does require some work and preparation. Whether you live for snow or plan to "make it through" another cold season, these tips should get your home ready by the time Jack Frost comes knocking.
http://ww

w.consumerenergycenter.org/residential/tightenup/weatherstrip.html

http://ww

w.diynetwork.com/how-to/rooms-and-spaces/walls-and-ceilings/tips-on-increasing-attic-insulation-efficiency

http://w

ww.homeenergysaver.lbl.gov/consumer/help-popup/content/~consumer~nrr~ice-dams

https://w

ww.energystar.gov/ia/partners/publications/pubdocs/DIY_Guide_May_2008.pdf?345e-ca0c

http://www

.homeadvisor.com/cost/inspectors-and-appraisers/hire-a-roof-inspector

https://www

.houselogic.com/organize-maintain/home-maintenance-tips/inspecting-and-maintaining-your-roof
Do you like this article? Let us know!
6
---
The views and opinions expressed in this article are those of the author and do not necessarily reflect the opinion or position of OneMain. The information in this article is provided for education and informational purposes only, without any express or implied warranty of any kind, including warranties of accuracy, completeness or fitness for any particular purpose. The information in this article is not intended to be and does not constitute financial, legal or any other advice. The information in this article is general in nature and is not specific to you the user or anyone else. The author was compensated by OneMain for this post.