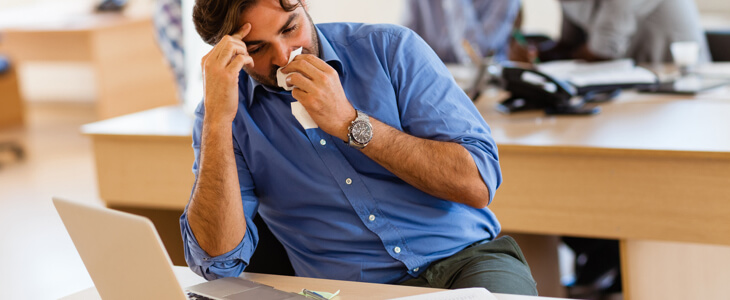 The Cost of Working Sick
By Matt Diehl • February 20, 2017
For some people, working sick is a way to show dedication to your job. However, doing so can negatively impact you, your colleagues and your company as a whole.
From productivity to profitability, here are the costs of working sick:
The effect on you, the employee
Research shows that 3 million people go to work sick every week in the United States.1 Although physically present, your quality of work can decrease and productivity levels may drop as much as 67%.2 While the reasons for not calling off may vary per employee, the effects of presenteeism can apply to everyone.
Presenteeism is a loss of productivity in the workplace due to employee health problems or personal issues.3 For example, if you serve at a restaurant, you might work sick because you don't want to leave your coworkers short staffed. If you work in an office, you might come in sick because you don't want your inbox to pile up. Some company cultures can also stimulate presenteeism, which could pressure employees to avoid calling off.4
Here are some potential effects you could suffer by working sick:
Worsen your condition
Produce low quality work
Make errors or use poor judgment
The effect on others
Some people may think that working sick will impress their boss. Whether this is true or not, your coworkers may not be as receptive of a sick colleague in the workplace.
Aside from the loud coughing and sneezing, simply knowing that a colleague is sick could be distracting. Also, others may get sick easily and feel uneasy with you in the office. If you work in an open office environment, the risk of spreading your illness could increase as well.
By going into work sick, your actions could affect others in the following ways:
Cause a distraction
Create tension
Spread illness throughout the workplace
The effect on the company
According to the Society for Human Resource Management, presenteeism costs companies more than medical care, prescription drugs and absenteeism combined. Outside of these costs, there are other potential liabilities and expenses a sick employee can pose to a company.
For instance, if you work in the foodservice industry, you could pose a risk of contaminating the food and getting your customers sick. In another case, if you work at a smaller company and infect half the staff, their profitability may be negatively impacted if they're unable to run business as usual.
Some potential effects on a company may include:
Decreased profitability
Increased risk of worker shortage
Possible need to pay for temporary staff
The remedy
The remedy to help keep down the costs of working sick is simple: stay home and recover. If you aren't 100% sure of the sick leave policy at your company, this could be a great time to ask.
For example, it's important to know if you have paid sick leave and how many hours you have available. If you don't have paid sick leave, it's equally important to know how taking off will impact your schedule and paycheck. By knowing these facts, it could help you avoid stress about missing work and ease your mind during recovery.
When you feel sick and are scheduled to work, ask your manager if you can:
Stay home and take a sick day
Telecommute if you feel you can still produce quality work
Coordinate with others to cover your duties until you return
Feel better!
When it comes to sick employees showing up for work, the costs usually outweigh the benefits.5 To help ensure a healthy workplace, the best prescription for a sick employee is to get well at home and return to work when fully recovered.
Greenfield, Rebecca. "Seriously, Don't Come to Work If You're Sick." Bloomberg.com. https://www.bloomberg.com/news/articles/2016-08-30/seriously-don-t-come-to-work-if-you-re-sick
Greenfield, Rebecca. "Seriously, Don't Come to Work If You're Sick." Bloomberg.com.
Investopedia. "Presenteeism." Investopedia.com. http://www.investopedia.com/terms/p/presenteeism.asp

Pickett, Patricia. "The Billion-Dollar Presenteeism Problem." TheBalance.com. https://www.thebalance.com/the-billion-dollar-presenteeism-problem-2071997

Frakt, Austin. "The High Costs of Not Offering Paid Sick Leave." NYTimes.com. https://www.nytimes.com/2016/11/01/upshot/the-high-costs-of-not-offering-paid-sick-leave.html?_r=0
Do you like this article? Let us know!
8
---
The views and opinions expressed in this article are those of the author and do not necessarily reflect the opinion or position of OneMain. The information in this article is provided for education and informational purposes only, without any express or implied warranty of any kind, including warranties of accuracy, completeness or fitness for any particular purpose. The information in this article is not intended to be and does not constitute financial, legal or any other advice. The information in this article is general in nature and is not specific to you the user or anyone else. The author was compensated by OneMain for this post.