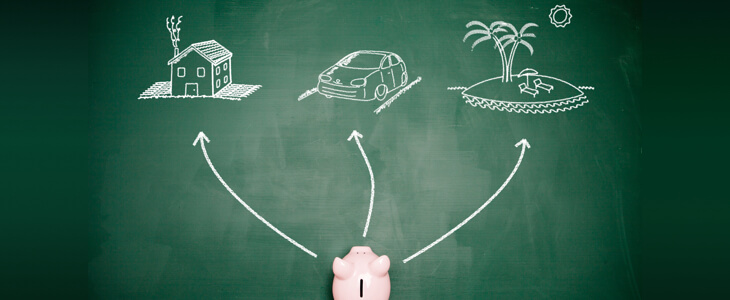 How to Set Goals for Your Money
By Matt Diehl • February 28, 2017
From daily objectives to lifelong dreams, many people set financial goals to try to improve their life. The formula to success may require drive and ambition but careful planning and execution can be important factors as well.
If you're ready to start setting goals for your money, here are some tips to help you succeed:
Understand your personal finances
Before setting your goals, it will be beneficial to understand the state of your unique financial situation. If you haven't visited your finances recently, now is a good time to get yourself up to speed. Having a clear understanding of where you stand can result in more reasonable and realistic goals.
To help you get started, here are some documents that will be helpful to review:
Pay statements
Bank statements
Credit card statements
Insurance policies
Investment documents
Tax returns
Identify your goals
Do you plan to purchase a new home or vehicle within the next two years? What about paying off a credit card account in the next 12 months? Whatever your goals may be, identifying what they are and ranking them based on priority or time frame could be beneficial.
Here are some examples of common goals and potential time frames:
Short-term - buy a new computer, pay off a small debt, save for a minor home improvement
Medium-term - buy a car, pay off a medical bill, save for a vacation
Long-term - buy a home, pay down student loan debt, save for retirement
Get specific
Take a look at each goal and analyze the steps to make it happen. "Buying a home" may seem like a logical goal but what are the specifics to achieving success? For example, it could include selling your current residence and saving up a down payment. Both of these matters might be essential to reach your end goal and should be detailed in your overall plan.
In the case of saving up a down payment, decide exactly how much you need to save and create a specific time frame. For instance, if you need to save $10,000 in the next two years, you can make a goal to save $417 per month for the next 24 months. The more specific you get, the more clear your goal may become.
Create an action plan
With a clear goal in mind, it's time to create an action plan. This is your opportunity to map out each individual step down your path to success.
In order to stay on track, here are some details to include in your plan:
Choose a start and end date
Set achievement milestones
Set weekly or monthly targets for review
Establish alternative plans of action
Plan for success
When setting goals for your money, frame your approach to be realistic, specific and actionable. By understanding what you want and how to get there, you could have a good chance of turning your goals into reality.
Do you like this article? Let us know!
1193
---
The views and opinions expressed in this article are those of the author and do not necessarily reflect the opinion or position of OneMain. The information in this article is provided for education and informational purposes only, without any express or implied warranty of any kind, including warranties of accuracy, completeness or fitness for any particular purpose. The information in this article is not intended to be and does not constitute financial, legal or any other advice. The information in this article is general in nature and is not specific to you the user or anyone else. The author was compensated by OneMain for this post.